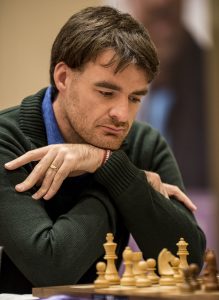 IGM Gawain Jones, England (ELO 2702)
31-year-old chess grandmaster Gawain Jones is no. 4 on English Chess Federation rating list. He has been a member of the English national team since 2008.
He was successful already as a boy and in 1997, he became the youngest person ever to defeat an international master in a competitive game. He became a grandmaster in 2007 and won the British championship in 2012 and 2017. He also won the Commonwealth Championship in 2011.
Jones is a true globe trotter, having lived in England, Italy, Ireland, Australia and New Zealand, but is now back in Yorkshire in England. In addition to being one of England´s strongest chess players, he is also a well-known chess book author and has, among others, written a two volume book on the Sicilian Dragon, one of the sharpest and most popular chess openings.
10 quick questions:
1) How many years have you played chess professionally?
"12 years. I took a gap year to play chess before going to University and then I never ended up going!"
2) At what age did you learn how to play chess?
"Four years old."
3) Who taught you how to play chess?
"My dad."
4) What was your first big tournament success (tournament win or similar)?
"I became a GM at 19. Probably one of the tournaments where I made a norm, such as the European Club Cup in 2006 where I made 5.5/7 on board 1. Then I was 18. My first success in an individual game was winning on time against IM Malcolm Pein when I was nine."
5) Do you sometimes also participate in other sports/games? If so, which and at what level?
"I also play some Rugby, although more often train than play, as the games are at weekends when I'm normally away playing chess. I really enjoy it but don't play at such a high level!"
6) Do you have any family members or relatives that also play chess? If so, who and at what level?
"My mum plays a little. She plays in the lowest section at Bunratty, an Irish weekend tournament."
7) What would you be doing today, if you did not play chess professionally?
"Good question. I've always wanted to be a chess player, ever since knowing it was possible to do it for a living. I think I'd probably still be in the chess world, writing and coaching."
8) What is your main strength as a chess player?
"Resourcefulness."
9) Do you have any superstitions when you sit down at the chess board before a tournament game?
"I always wear my bracelet and necklace."
10) What do you hope to achieve in the 2019 TePe Sigeman & Co Chess Tournament?
"Any tournament I play the ambition has to be to win!"