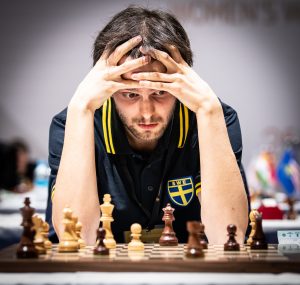 27-year-old chess grandmaster Nils Grandelius has for many years been Sweden's no. 1. He became a chess grandmaster in 2010 and has been a regular on the Swedish national team since then.
In 2015, he won the Under 18 European Championship and the Swedish Championship, as well as the Abu Dhabi Masters. He also shared first place in the Tepe Sigeman Chess Tournament three times (2013, 2017 and 2018). In the 2019 European Championship, he finished 2nd after Russian GM Vladislav Artemiev and in his debut in the A group of the Tata Steel Chess Tournament in Wijk an Zee this year, he finished in the middle of the field, despite being rated second last.
When he was younger, he was known for uncompromising and sometimes very risky play, but after meeting top players on a regular basis, he has gradually become a more solid player and also has developed some impressive technical skills.
He is of course looking for a similar result in this year´s tournament.
10 quick questions:
1) How many years have you played chess professionally?
Since I finished high school, so approaching eight.
2) At what age did you learn how to play chess?
When I was six years old.
3) Who taught you how to play chess?
My granddad taught me at home. When I was seven I started playing in a club.
4) What was your first big tournament success (tournament win or similar)?
My first major tournament win was probably when I became European Under 18 Champion in 2011.
5) Do you sometimes also participate in other sports/games? If so, which and at what level?
I enjoy playing many sports for fun, especially table tennis and badminton, but I am not a member of any sports club.
6) Do you have any family members or relatives that also play chess? If so, who and at what level?
Most of my relatives know the rules, but none of them have ever played in a club.
7) What would you be doing today, if you did not play chess professionally?
I'd probably be at university, studying some sort of social science.
8) What is your main strength as a chess player?
Creativity and a fighting spirit!
9) Do you have any superstitions when you sit down at the chess board before a tournament game?
I have come to realise than when you feel well, you play well. But it's not really a superstition.
10) What do you hope to achieve in the 2021 TePe Sigeman & Co Chess Tournament?
To play some interesting games, and if possible, to win!