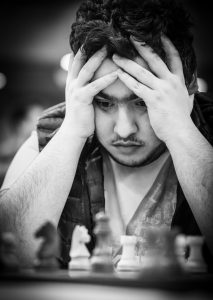 IGM Parham Maghsoodloo, Iran (ELO 2671)
18-year-old chess grandmaster Parham Maghsoodloo is Iran´s highest rated chess player. He is by many considered to be one of the biggest talents among the next generation of top players.
He became a grandmaster in 2016 and rapidly went on the win the Iranian championship in 2017 and then the World Junior Championship in 2018, with a formidable 9½ points in 11 rounds.
Parham is known for his long training sessions, and for experimenting with openings, to try to find new interesting ideas. He is also known as a fighter, who often manages to somehow save himself when he has landed himself in trouble.
10 quick questions:
1) How many years have you played chess professionally?
"It is about 6 years that I'm playing professionally in international tournaments."
2) At what age did you learn how to play chess?
"When I was 10."
3) Who taught you how to play chess?
"My father was my first teacher."
4) What was your first big tournament success (tournament win or similar)?
"I won the world under14 blitz chess championship."
5) Do you sometimes also participate in other sports/games? If so, which and at what level?
"No but sometimes I like to play football."
6) Do you have any family members or relatives that also play chess? If so, who and at what level?
"No, unfortunately I don't have."
7) What would you be doing today, if you did not play chess professionally?
"I was planning to be a doctor, but now I'm very happy in my way."
8) What is your main strength as a chess player?
"In my opinion I'm very creative and a big fighter."
9) Do you have any superstitions when you sit down at the chess board before a tournament game?
"Only my beloved vests."
10) What do you hope to achieve in the 2019 TePe Sigeman & Co Chess Tournament?
"Hopefully to become the champion!"