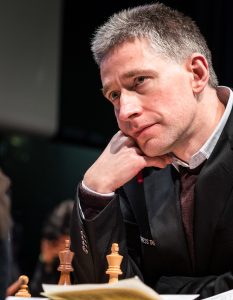 50-year-old GM Michael Adams is one of two players in this year's tournament that has played a World Championship match. In 2004, he played Rustam Khasimdzhanov for the FIDE World Champion title. He lost the tie-break 3½-4½ after the match ending in a 3-3 tie.
He has won the British Chess Championship 7 times, and has for a number of decades been among the best chess players in the world. Among his tournament wins (shared or clear of the field), he counts some very strong tournaments, such as 1993 Groningen Interzonal, the 1995 and 1999 Dos Hermanas tournaments, and the 1998 Dortmund Sparkasse tournaments.
He participates in the TePe Sigeman Chess Tournament for the first time.
10 quick questions:
1) How many years have you played chess professionally?
I've never had another job, since I was 17 (33 years). That sounds like a long time!
2) At what age did you learn how to play chess?
I was 6 years old.
3) Who taught you how to play chess?
My father.
4) What was your first big tournament success (tournament win or similar)?
Cornwall Under 10s. I was 8 years old.
5) Do you sometimes also participate in other sports/games? If so, which and at what level?
I like running, but only for fun.
6) Do you have any family members or relatives that also play chess? If so, who and at what level?
My father, he is a club player, although his bridge is much better.
7) What would you be doing today, if you did not play chess professionally?
A good question, but I'm not sure of the answer.
8) How many languages do you speak?
Only 1, English.
9) Who, in your opinion, is the greatest chess player of all time? Why?
I think still Garry Kasparov, but Magnus Carlsen has very good chances to overtake him in the future. They both play, or played on a totally different level to the opposition
10) What do you hope to achieve in the 2022 TePe Sigeman & Co Chess Tournament?
A promising debut.