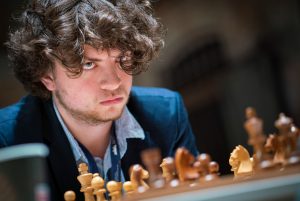 18-year-old GM Hans Niemann is one of the rising stars in American chess.
He learned how to play chess when he lived in the Netherlands, and after returning to the US at the age of 10, he rapidly improved and started to compete on a serious level, and in 2016, he tied for first place in the North American Junior Championship. He became a grandmaster in 2020 and in 2021, he won the Philadelphia World Open, as well as the US Junior Championship.
He is participating in the TePe Sigeman Chess Tournament for the first time.
10 quick questions:
1) How many years have you played chess professionally?
I would say that I have been playing professionally for about a year since I graduated high school in may of 2021. After my graduation, I started to focus everything into competing.
2) At what age did you learn how to play chess?
I learned how to play chess at the age of 8 years old.
3) Who taught you how to play chess?
I learned how to play chess at school, as chess was a part of the core curriculum.
4) What was your first big tournament success (tournament win or similar)?
My first big tournament success was probably winning the World Open in 2021. I was 18 years old.
5) Do you sometimes also participate in other sports/games? If so, which and at what level?
I used to be very competitive in Water Polo, swimming and cycling. Recently, I swim and play tennis casually.
6) Do you have any family members or relatives that also play chess? If so, who and at what level?
None of my family or relatives play chess.
7) What would you be doing today, if you did not play chess professionally?
I would probably be playing Water Polo in College right now if it wasn't for chess.
8) How many languages do you speak?
I only speak English.
9) Who, in your opinion, is the greatest chess player of all times?
Bobby Fischer is the greatest chess player in my opinion, due to the fact that he was up against the entire soviet union and managed to dominate the field by an insane margin.
10) What do you hope to achieve in the 2022 TePe Sigeman & Co Chess Tournament?
Playing my best chess is the obvious goal, but winning a tournament is always my main priority!