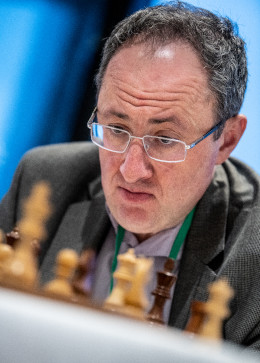 54-year-old GM Boris Gelfand is a former World Championship contender and Israel's number one chess player.
Gelfand showed great promise early on, and in 1985, he won the USSR Junior Championship. In 1987, he won the European Junior Championship, and in 1988, he finished second in the World Junior Championship. He became a grandmaster in 1989.
In 1995, he won the Biel Interzonal Tournament and qualified for the Candidates matches that would decide the new FIDE World Champion. He lost to Anatoly Karpov in the semi-finals, after which Karpov went on to defeat Gata Kamsky in the final. In 1999, Gelfand also won the Sigeman & Co Chess Tournament, scoring 7 points over 9 rounds.
In 2007, he shared second place with Vladimir Kramnik in the World Championship tournament, one point behind winner and new World Champion Vishwanathan Anand. In 2009 he won the Chess World Cup and in 2012, he went all the way in the Candidates Tournament and earned the right to challenge World Champion Anand. The match ended 6-6 but Anand won the rapid chess playoff 2½-1½ to retain his title.
He is participating in the TePe Sigeman Chess Tournament for the second time.