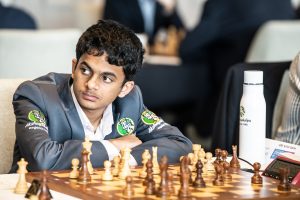 In the last two decades, India has produced a long series of young chess talents. 16-year-old chess grandmaster Nihal Sarin is among the latest of these.
After starting to play tournament chess when he was 7 years old, he rapidly did very well in local youth tournaments and at the age of 8, he managed to win his first FIDE rated open tournament. His first international success came when he won the Under 10 World Championship in 2013.
Though Nihal has on occasion been coached by GM Narayanan and by GM Komarov, his main training tool is the Internet. In four years, he clocked more than 11,000 games on chess.com (one of the major chess sites), constantly learning from his mistakes.
By the end of 2018, he secured the grandmaster (GM) title, becoming one of the youngest chess grandmasters in the world.
10 quick questions:
1) How many years have you played chess professionally?
I am 16 now. I guess I have been playing more or less all the time since I was 7-8.
2) At what age did you learn how to play chess?
Around the time I was 7 years old.
3) Who taught you how to play chess?
My grandfather taught me the rules.
4) What was your first big tournament success (tournament win or similar)?
I won a bunch of state level tournaments/national level tournaments when I was 8-9. I finished joint first in a FIDE rated Open when I was 8.
5) Do you sometimes also participate in other sports/games? If so, which and at what level?
I love playing badminton. I have managed to play in the district level tournaments of badminton, but without much success. But I do enjoy playing it.
6) Do you have any family members or relatives that also play chess? If so, who and at what level?
My grandfather, father, and sister know the rules of chess but nothing beyond that.
7) What would you be doing today, if you did not play chess professionally?
Studying stuff and going to school.
8) What is your main strength as a chess player?
I don't know yet. I just love playing. Too early to think about these things for me I suppose.
9) Do you have any superstitions when you sit down at the chess board before a tournament game?
No. Almost impossible to think of such things. I find habits that are not based on scientific proof very questionable and difficult to believe.
10) What do you hope to achieve in the 2021 TePe Sigeman & Co Chess Tournament?
I would like to play my games as strongly as possible. Right now, my expectations are not based on my results. I just want to play as well as I can and try and win as many games as I can.