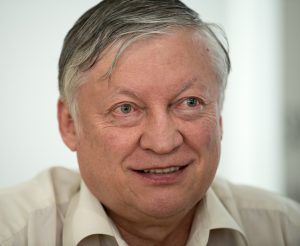 Anatoly Karpov, world chess champion 1975-1985 and FIDE world chess champion 1993-1999, is one of the true legends of modern chess.
In 1975, he qualified for a world championship match against Bobby Fisher, a match that never took place since Fisher put up a number of conditions that were not met by FIDE, the world chess federation. During his time as world champion, he defended his title against Korchnoi twice, and then held on to his title in 1984, after FIDE called of the marathon match in Moscow after 48 games for health reasons (Karpov then had a 5-3 lead). The rematch in 1985 was won by Kasparov 13-11.
Karpov played yet another three world championship matches against Kasparov, two of which were very close and the third even a draw (which meant Kasparov held on to his title).
In 1993, after Kasparov had broken off with FIDE, Karpov defeated Timman to become the FIDE world champion. This title he held on to until 1999, when he resigned over rule changes that forced the world champion to qualify for the world championship match, just as any other player.
In addition to being a formidable match player, Karpov has also won more than 150 major international tournaments. He makes his first appearance in the TePe Sigeman Chess Tournament and his first appearance in a major tournament for more than a decade.